If your house is anything like ours is right now, your cooking revolves around the very finicky tastebuds and moods of a mini-dictator. Yes, he has adorable wispy curls and his gap-toothed smile makes you find new corners in your heart for jack-o-lanterns, but, man, he is stubborn at meal time. So we have to get really creative, by which I mean crafty and manipulative.
Besides playing around with tastes and textures, I thought it could be fun to make some bite size treats. And, wonder upon wonder, I found a fantastic, heavy-duty non-stick mini-muffin pan at Sur la Table. Yes, I love SLT, but I don't love having to pay $35 for a piece of kitchen equipment that's, let's face it, completely superfluous. It doesn't help that it's almost impossible not to feel like a pretentious ass just saying the store's name. South Park gets it right:
But that store is like crack to a cooking addict. And so imagine my delight when I found the perfect pan in the clearance section for just over $10!
Ben used it to make some banana-yogurt muffins this weekend, and they turned out predictably adorable and bite-sized. The recipe is inspired by Chobani's greek yogurt recipe, but he just used regular whole milk yogurt since we have cartons of the stuff on hand for said picky child.
**
Banana-Yogurt Muffins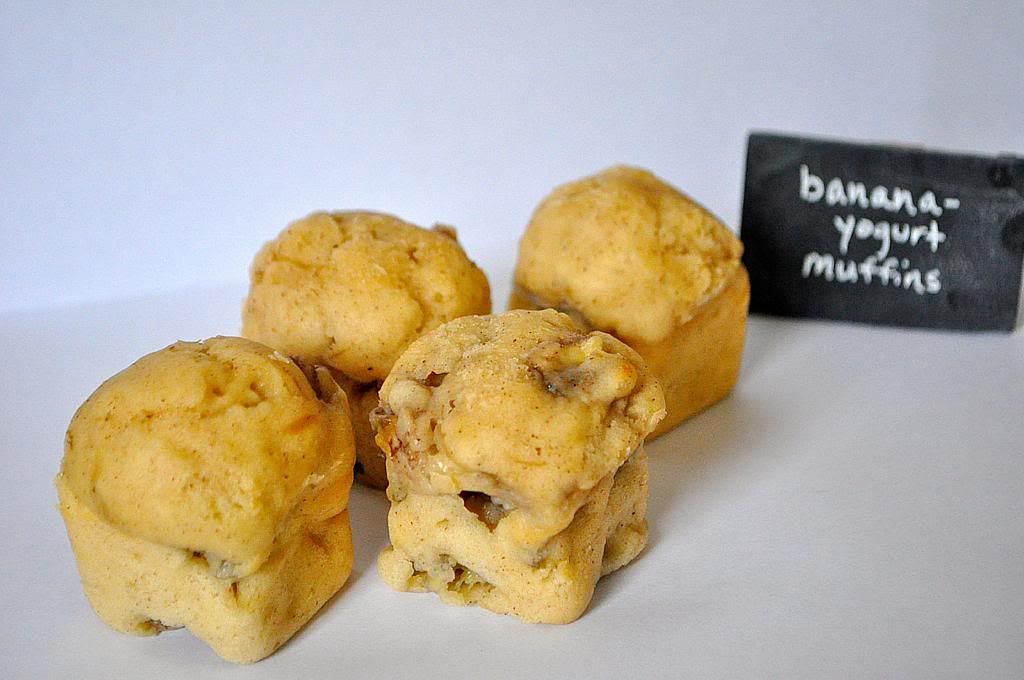 1/2 cup whole milk yogurt

1 c all-purpose flour

1 c whole wheat flour

1 t baking soda

1 t baking powder

½ t ground cinnamon

¼ t salt

4 ripe bananas, mashed

1 c packed light brown sugar

½ c canola oil

1 large egg
Preheat the oven to 350 degrees. Grease your muffin tin, unless it's amazing and non-stick like the one above. Whisk the dry ingredients together. In a separate bowl, beat the rest of the ingredients with an electric mixer. Add the dry ingredients to the wet ingredients, mixing on low until combined. Pour batter into the muffin cups and bake until golden brown, about 20 to 25 minutes. Cool on a wire rack.
These fared well with our 21 pound boss for about a day, and then he figured out what we'd been up to. This morning we chased him around with some muffin bits in hand, until we finally called them "bread" and he about-turned, snatched them up, and stuffed them in his mouth. Your guess is as good as mine.